The Tea Planter's Wife by Dinah Jefferies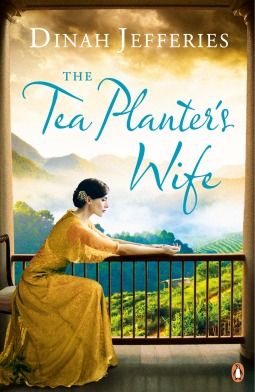 Dear Reader,
BOOK DESCRIPTION:
Nineteen-year-old Gwendolyn Hooper is newly married to a rich and charming widower, eager to join him on his tea plantation, determined to be the perfect wife and mother. But life in Ceylon is not what Gwen expected. The plantation workers are resentful, the neighbours treacherous. And there are clues to the past - a dusty trunk of dresses, an overgrown gravestone in the grounds - that her husband refuses to discuss. Just as Gwen finds her feet, disaster strikes. She faces a terrible choice, hiding the truth from almost everyone, but a secret this big can't stay buried forever . . .
MY REVIEW:
First off I want to thank Dinah Jefferies for sending me an early copy of The Tea Planter's Wife to review.
Wow what a story! I immensely enjoyed this sensitive, thought provoking narrative which was beautifully told. We meet nineteen year old Gwen Hooper who has just arrived in Ceylon to join her new husband at the tea plantation. The year is 1913 and little does Gwen know of what lies ahead. Her husband Laurence is distant to begin with and then his scheming sister arrives on the scene. When Gwen begins to get a hand of her new home disaster strikes resulting in guilt, betrayal and unknown secrets.
Dinah Jefferies paints beautiful descriptions that give you a real sense of the era and of Ceylon with a backdrop of the attitudes to race and prejudices of that time and explored colonialism elements which made this novel much more than an escape.
This is a story that will stay with me. It is a must read! I look forward to more from Dinah Jefferies.
I have this review posted on Goodreads
https://www.goodreads.com/review/show/1249302289
Enjoy!
Kind regards,
Ailish