Silent Scream by Angela Marsons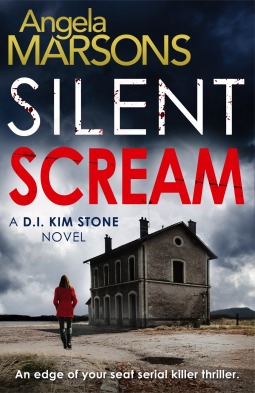 Dear Reader,
BOOK DESCRIPTION:
Even the darkest secrets can't stay buried forever…

Five figures gather round a shallow grave. They had all taken turns to dig. An adult-sized hole would have taken longer. An innocent life had been taken but the pact had been made. Their secrets would be buried, bound in blood …

Years later, a headmistress is found brutally strangled, the first in a spate of gruesome murders which shock the Black Country.

But when human remains are discovered at a former children's home, disturbing secrets are also unearthed. D.I. Kim Stone fast realises she's on the hunt for a twisted individual whose killing spree spans decades.

As the body count rises, Kim needs to stop the murderer before they strike again. But to catch the killer, can Kim confront the demons of her own past before it's too late?
MY REVIEW
:
This is Bookouture's first crime novel and everywhere I look on Twitter somebody is talking about this book and with such great reviews, I just had to read it!
This is Angela Marsons debut novel featuring kickass heroine D.I. Kim Stone. I have read about countless investigative teams, but the team in
Silent Scream
was so brilliantly created, with some intriguing and realistic characters, all who have a role to play in this book but it has two standout characters - D.I. Kim Stone and her partner Bryant.
At the start Kim Stone almost seems like your typical female detective but as the novel progresses we learn that she has had a troubled past and due to her upbringing she takes no nonsense from her colleagues and ignores the rules. She is clever,sassy, determined, and sarcastic with a passion for motorbikes that made me like her instantly. She is such a fantastic character but underneath is a sensitive side. Her partner, Bryant, married with a family but so committed to his job is the perfect side kick for Kim. I loved the banter between them. He was well able for Kim's sharp tongue!
Not only does Angela allow us to read from Kim's perspective, but we also get to hear the story from the soon-to-be victim's point of view. I do not want to give too much away about the plot as it is in the book description but it is a gripping story and just when you think you know who did it, there is a fantastic twist.
I cannot wait to meet Kim and the gang again.
This is a must read!
https://www.goodreads.com/review/show/1246387396?book_show_action=false
Enjoy!
Kind regards,
Ailish